Hello my name is Sohan Kailey… 
and let me tell you I have been born to entertain! Award Winning Performing Artist (UK Bhangra Awards), Entertainer, Dancer, DJ, Bhangra Fusion Dancer, Family Entertainer, Actor and Voice-Over Artist. I spread the joy of dance all around the country with regular stage shows and workshops. Specialising in vibrant Bhangra Pop Music and Dance.
 I have released my debut album 'Let's Naach' (Let's Dance) with exciting fun songs for children and families.
Radio air play and coverage on BBC Radio, BBC WM, BBC Asian Network, SKY TV, Little Radio UK as well as
commercial radio stations across the UK and abroad.
Please see 'Shop & Downloads' page for details.
I have a huge passion for music and dance and that is exactly what I deliver!
Entertainment & Workshops  
Being an expert in the entertainment industry I bring dance, colour, music and vibrant shows to the stage to entertain audiences, small and large and of any age. With regular performances throughout the year at family festivals, music concerts, dance events, stage shows, exhibitions, corporate events,
Television shows, theatre's, schools, art galleries, museums and exhibitions. I get everyone singing and dancing along!
Dynamic Bhangra Dance performances and workshops at educational establishments across the wider community.
I have performed at 2012 Olympic Games London, 2002 Commonwealth Games Manchester, National Dance Teachers Conference,
Birmingham Rep Theatre, Birmingham Hippodrome Theatre, Symphony Hall Birmingham, Lowry Theatre Manchester, South Bank London,
Children in Need, afPE Conference for PE Teachers, Health and Wellbeing Events, Family Holiday Resorts, Holiday and Theme Parks, Your School Games,
School Sports Partnerships, Teacher Training Days, Team Building Away Days, Virtual dance classes to lots more!  
My motto is to engage participants to 'Lead healthier and happier lifestyles through dance and music.' 
I am always on the go and ready to rock!

Bhangra Fusion Dance Workshops

Bollywood Dance Workshops

Bhangra Tots Storytelling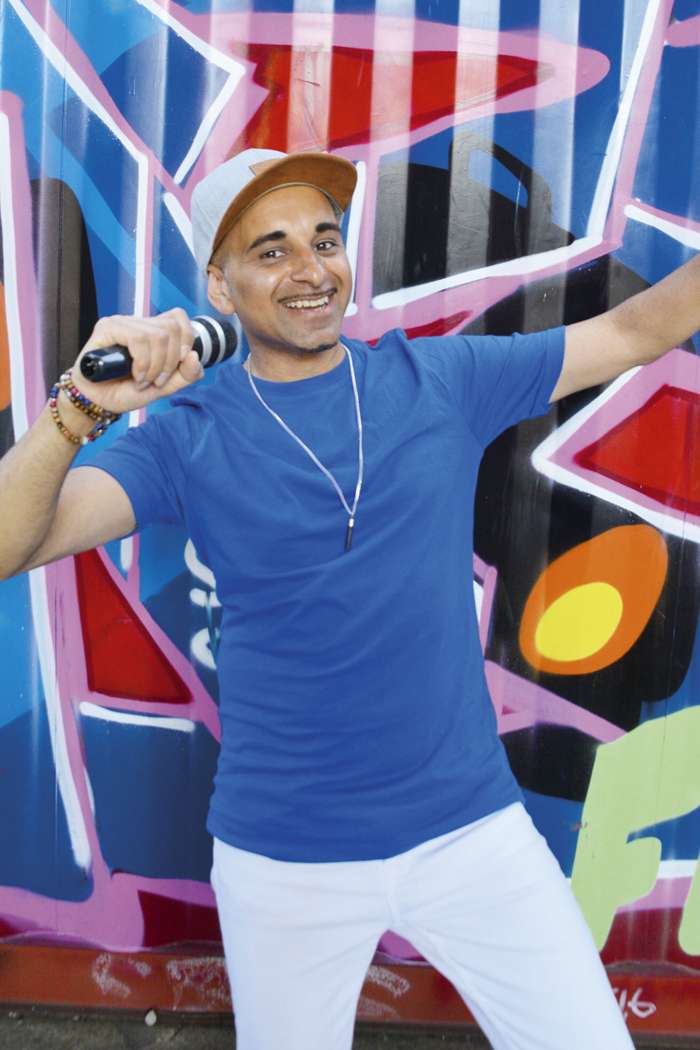 Bhangra Fusion Dance Workshops
Learn the art of vibrant Bhangra dancing (agricultural dance). With over 20 years expertise within this field, I take learners on a culturally rich journey from the traditional to modern day fusion Bhangra beats and dance!
I provide vibrant and innovative Bhangra dance workshops in schools (all key stage groups), these can be linked to aspects of the curriculum. Ideal for Enrichment Days, Enhancement to PE lessons, Sports Days, Cultural Days, Understanding the World, RE & Faith projects, Dance & ICT, Music projects, Health & Wellbeing Days and much more.
Bespoke classes and workshops to suit your requirements.
A great way to use Bhangra dancing to keep fit and get active across educational and community establishments. Bespoke workshops to suit your requirements. Available for Community Arts Projects, PE & Sports Conferences, Teacher Training Events, Team Building Days and much more. Book your Live, Bhangra online, virtual dance classes and workshops.
Bollywood Dance Workshops
Learn about the glitz and glamour of the Indian Film Industry through uplifting Bollywood dance and music. Bollywood lends itself to creativity with the blend of styles and genre's it includes. Bollywood Dance workshops available for schools (all key stage groups) and community arts projects. Health & Wellbeing Days and much more. Bespoke workshops to suit your requirements.
Bhangra Tots Storytelling
Wiggle, giggle and dance with Bhangra Tots. A fun and exciting way for pre-school children to learn about Bhangra dancing through interactive storytelling and creative movements. Together with their grown-ups sing, dance and play! Join the Bhangra train, meet Bhangra bunny and farm friends. Let's dig the soil, plant the seeds and celebrate with joy! Ideal for Early Years Foundation Stage.
Available for Early Reading events, Book Start, Summer Reading Challenge, World Book Days, Storytelling festivals, Reading Agency Events, Family Festivals, National Baby and Toddler Shows, Parenting Events and much more.
Creative Arts Themes
Through the magical book journey through the Amazon Rainforest, set sail the high seas with Swashbuckling Pirate Adventure, Jungle Safari Adventure, Roarsome Dinosaur Show, On the Beach – Under the Sea, Escape to the Enchanted Forest, Blast off in a rocket to Outer Space! Bring storybooks to life with your imaginations and creativity!  More themes available!
Great for Book start events, Reading and Book Festivals, Summer Reading Challenge and more!
We would love to hear from you…
If you have any questions please get in touch with us, and we will be happy to help.
"Sohan Kailey's boundless energy and love for all things Bhangra is infectious. You just can't help but dance along."
Rebecca Keatley (CBeebies Presenter)
"Sohan and his lovely wife are fantastic performers, their dancing is infectious and educational, bringing a style of dance not just little ones but everyone wants to join in with. I've even considered bringing Bhangra Tots on tour with me and my band!"
Andy Day from Andy and the Odd Socks (CBeebies Presenter)
"Sohan Kailey the Fred Astaire of Bhangra."
Oliver Speight,
Founder of Speight of the Art, The Mark Speight Foundation
"Sohan The Early Years team and I would like to thank you for your amazing contribution to the "Fanning the Flames of Creativity" Conference. Not only did you provide excellent workshops which delegates enjoyed tremendously and will have lots of ideas and activities to take back to their schools and settings. You also provided a perfect introduction to the conference, encouraging practitioners, enabling them to experience something different in a safe environment and opening up their minds to their creative development which lasted throughout the day. Your approach, flexibility and personal creativity enabled us to work well together and develop a really good creative experience. Well done and thank you once again for your input."

Kathy Slinn, Head of the Early Years & Child Care Services, Solihull
"Wow. Just wow. The best workshop I have ever had the pleasure of being part of in my whole 10-year teaching career. Sohan Kailey has it all. The drive, the excitement, the enthusiasm and more importantly the moves. This guy is so passionate about his culture it is amazing to see how he uses dance as a tool to bring everyone together. The pupils and the staff were in awe of just how good he was. I would recommend him to anyone as he won't disappoint. Look forward to booking you again in the near future!"

Head of PE, Secondary School 
"Sohan is an outstanding artist and I would not hesitate to recommend him. He has run dance sessions for children, adults and families at a number of national music festivals that I book as well as other events. His energy and enthusiasm is inspiring and he is adaptable for any event, often providing a variety of workshops or performances on the same day. His costumes and props are fantastic but it is his engagement with participants that sets him apart. He combines Britishness with an authentic representation of his culture and history that engages and enthuses people from all backgrounds."
Jem Maynard Watts, Festival Programmer